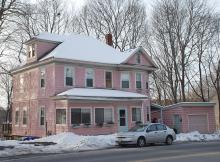 Historical Narrative:
98 North Main St. "Gray House" built 1896
Hardy & Cole, construction company and builders, purchased the Low Estate property at 70 No. Main in April 1892 from Mary Ann Low and Emma F. Chase of Michigan City, Indiana. The business partners began dividing up the land of the former Low estate creating house lots north of the house along North Main Street. They began selling off lots in 1895 & 1896.
This lot was purchased by Catherine Gray wife of Thomas Gray on May 20, 1896 from Lewis T. Hardy & Joseph Cole of Hardy & Cole Company.
The Michelini family lived her from 1905- 1926. Dionisio Michelini was a foreman with Boston & Maine RR. Wife Mary, and children Americo, Evelyn, Isabel, Emma & Adam J. Some of the family were employed with Tyer Rubber Co. They sold to Duncan Bisset in 1923 and later moved to Brookline, MA.
Duncan Bisset and family emigrated from Dundee, Scotland and settled in Andover where two of his sisters were living, Jemima Bisset Low and Elziabeth Bisset Ferrier. The Bisset family owned for 23 years before selling to
Alfred M. & Laura K. Robb and remained with the Robb family from 1946-1990.
(see plan # 5621 – yr. 2006)
(See plan # 15621 rec. 2006)
Essex County Registry Deeds, Salem, MA
Essex Northern Registry Deeds, Lawrence, MA
Andover Townsman - AT
Andover Street Directories
Owners:
Joseph L. Low estate - 1820 - bk. 223 leaf 227 - Salem Deeds
Lucy L Low, & Emily Low - July 31, 1873 - bk. 22 pg. 273
Lucy L. Low mortgage - Jan. 14, 1874 - bk. 25 pg. 184 - discharged
Mary Ann Low "Low Estate" - March 1892 - by probate will
Lewis Hardy & Cole "Low Estate" - June 30, 1892 - bk.119 pg 406-7
Catherine Gray wife of Thomas Gray - May 18, 1896 - bk. 147 pg. 85-6
Dionisio & Mary Michelini - Oct. 5, 1905 - bk. 225 pg. 498
Mary D. & Dionisio Michelini - May 3, 1919 - bk. 398 pg. 559
Duncan M. Bisset - June 21, 1923 - bk. 480 pg. 506
Alfred M. & Laura K. Robb - June 22, 1946 - bk. 686 pg. 493
Alfred & Marion Robb - Aug. 14, 1950 - bk. 739 pg.466
Alfred & Marion Robb - life estate - Nov. 2, 1954 - bk. 801 pg. 475
Alfred d. 11/4/1993
Alfred M. Robb Jr. & Thomas Robb - July 26, 1990 - bk. 3141 pg. 303
James A. & Joseph F. Zegowitz Sr. - July 6, 1996 - bk. 4545 pg. 84-5 / 87
J. Monica Morell - May 27, 1997 - bk. 4767 pg. 1
J. Monica Morell – living trust - Dec. 6. 2007
J. Monica Morell - Feb. 8, 2008 - bk. 11060 pg. 176
Inventory Data:
| | |
| --- | --- |
| Street | North Main St |
| Place | Andover Center |
| Historic District | Not Applicable |
| Historic Name | Catherine & Thomas Gray House |
| Present Use | Condo - residences |
| Original Use | residence - 2 family |
| Construction Date | 1896 |
| Source | ERDS, ENRDL |
| Architectural Style | Other |
| Architect/Builder | Hardy & Cole builders |
| Foundation | stone |
| Wall/Trim | clapboard/wood |
| Roof | asphalt |
| Outbuildings / Secondary Structures | garage on north side of house |
| Major Alterations | 1963 C. Lincoln Giles - renovation |
| Condition | excellent |
| Setting | residential/commerical |
| Map and parcel | 38-31 |
| Recorded by | James S. Batchelder |
| Organization | Andover Preservation Commission |
| Date entered | Sept. 13, 2014 |
Map: